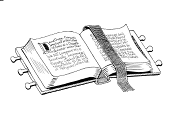 I have an interesting background being the grandson of William Truzzi the last of a circus dynasty,who having remained in Russia after the rest of the family had fled ,survived famine and revolutionary tribunals, eventually being made Artistic Director of all Soviet Circuses,a lot of them confiscated from the family!
His son and my father Gigetto (stage name George Truzzi) partnered Lauri Lupino Lane in a variety act appearing alongside the likes of Morecombe and Wise,Terry Scott and Hugh Lloyd,Arthur Haynes and Dermot Kelly etc and also toured abroad with the Circus.
The Act culminated in an appearance in Charlie Chaplins' film A King in New York and a Royal Variety performance.
I started work as a Calligrapher (1966-1990) working for The Kings, Heralds and Pursuivants of Arms at Her Majesty's College of Arms under the late W.T. Lovegrove MVO Clerk of the Records,becoming Deputy to his successor K.Evans MVO.
Engrossing on Vellum and Whatman paper Genealogical and Armorial documents, pedigrees and
Royal Licences etc into the College Records and archives, as well as producing the original documents on a freelance basis.
Freeman of the City of London in 1973.
In 1990 established Applied Art to broaden my sphere of work to encompass more Armorial work, Hatchments, Gate Shields,
Coach Work as well as producing pictorial pub signs for Tollemache and Cobbold, Pubmaster and Greene King as well as freelance work for the College of Arms, City Livery Companies, Guildhall etc. Contributed and appeared with presenter Rory Mc Grath in BBC TV programme History Fix re the painting and history of pub signs 1999.
Miguel di Villetto an evening of Surrealism joint venture with G.Goring and talk by Prof.Robert Short hosted by the Clock House Arts Association.
Exhibition of photographs of St Petersbourg at The Cut Halesworth
Member of the Creative Freelance Group a showcase for artists and illustrators based in the Ipswich area of Suffolk.
Member of the Society of Scribes and Illuminators
Member of the Heraldry Society
A Fellow of the Society of Heraldic Artists and....